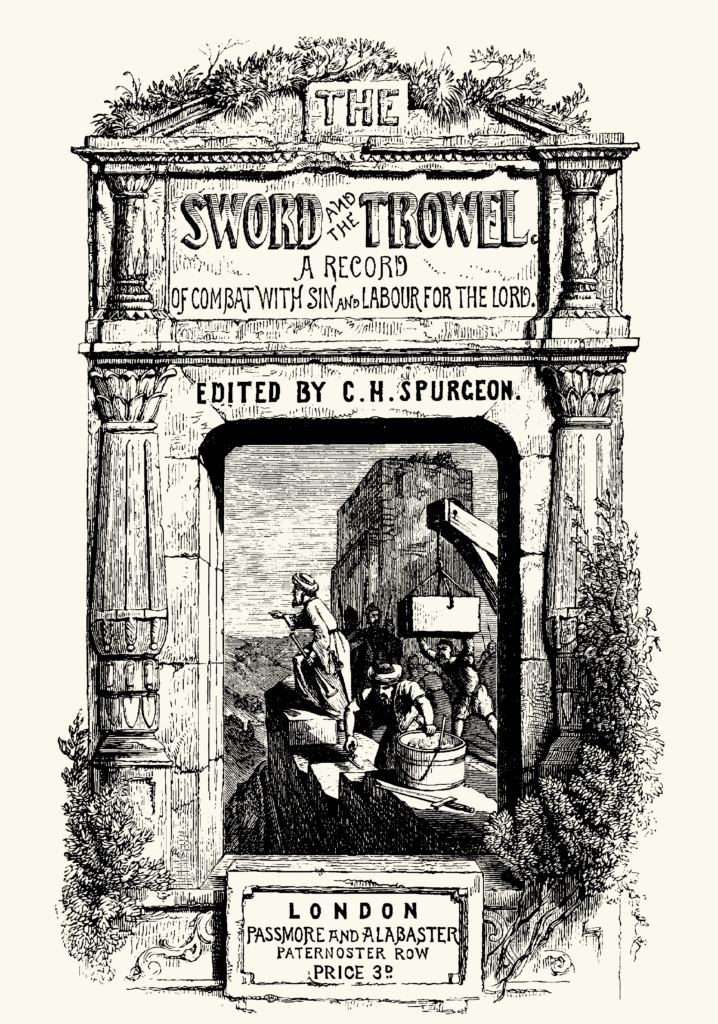 The year 1892 marked the last year that Charles Spurgeon served as the chief editor of The Sword and the Trowel. Up to the end, the magazine existed for the two-fold mission for which it was founded: fighting error and building up the church. Throughout 1890 and 1891, a very sick and heartbroken Spurgeon published articles that continued to expose the errors of the growing theological liberalism and called churches to faithfulness. While Spurgeon continued to be influential on a popular level, leaders in the Baptist Union and other denominations had largely moved on from his doctrinal positions, seeing them as old-fashioned and antiquated. Still, many respected him for all that he had accomplished during his life. Their respect for him would be made evident at his death.
On January 31, 1892, Spurgeon laid down his sword and trowel and entered into his heavenly rest. Later that spring, four memorial services would be held at the Metropolitan Tabernacle. On the day of his burial, shops closed, flags flew at half-mast, and a crowd of over 100,000 lined the way from the Tabernacle to Norwood cemetery. This would be a fitting tribute for one who had such a worldwide impact in the 19th century. Though he died embattled for his theological views, many church leaders turned out to pay their respects.
Spurgeon was shunned for his stand for historic Christian orthodoxy in his day, but he understood that he would be one day vindicated for his faithfulness to the gospel. Of course, that ultimate vindication still lies in the future. But it can be seen in part in our day, as Spurgeon's works continue to serve the cause of Christ in fighting error and building up the church. He preached a timeless gospel and therefore, he remains relevant in our day.
Below are a few highlights from these last three years. As you read through these issues, send us a note on Twitter (@SpurgeonMBTS) if you find anything interesting!
(To jump straight to the article, click on the link, then click the "View this Resource" button.)
Stand Fast in the Faith – Though the events of the Downgrade Controversy had passed, Spurgeon knew the battle was not over. Writing to Christians and church leaders, he calls them to stand fast in the truth once for all delivered to the saints.
"Stand fast." Get good foothold. Know your standing; make sure that it is firm, and then be sure that you are firmly on it. What is the basis of your confidence? Is there rock beneath you? It is all in vain to be yourself immovable if that which is beneath you is crumbling from under your feet. To be firm in error is only to make your ruin the surer. Nothing but eternal truth is a fit foundation for an immortal soul. Let us hold truth, truth only, truth certified by inspiration: then may we stand fast.
Gambling at an Institute – With the decline of theology comes the decline of morals. Spurgeon tells a story of the danger of using worldly vices and entertainments to draw young men to the church.
Christian young men are better at home with their wives and families than spending their evenings in covert gambling, even though that gambling be on the smallest scale. We saw a bagatelle-table in a vestry the other day, and we could not help thinking of this story, as the flower which is likely to grow out of that kind of seed. Surely there are enough places of amusement without using our vestries and school-rooms for such purposes.
Thoughts about Church Matters – Spurgeon here warns of how churches can unwittingly call theologically liberal pastors because of their dishonesty about their doctrinal positions. Therefore, church leaders needed to be especially on guard and aware of the ongoing debate.
Our words are not meant exclusively for any one denomination, nor have they been so all along; our warning is for all Protestant churches alike; for though there be degrees of departure from the faith, and double-dealing with ecclesiastical terms may not in every sect be an equally flagrant fault, yet these evils are afflicting all the churches. The torrent of unbelief and worldliness rises above the hills, while it swamps the valleys. The duplicity which we denounce is not to be seen as a lone malignant star in one quarter of the heavens, but discerning eyes can detect its evil beams both in the northern, the southern, and the western sky. This omen of ill should send us to our knees, and make us cry continually unto our Lord.
Brief Note on Plagiarism – We can settle the debate once-for-all: Spurgeon was opposed to plagiarism! At the same time, he recognized that some license could be given for lay-preachers, students, and others who were in challenging circumstances. But for regular preachers of God's Word, there is no excuse for plagiarism.
It is not to be thought of for a moment that any minister would appropriate a sermon bodily, and preach it as his own. Such things have been done, we suppose, in remote ages, and in obscure regions; but nobody would justify a regular preacher in so doing. We give great license to good laymen, who are occupied with business all the week, and too much pressed with public engagements to have time to prepare. When princes and peers have speeches made for them, a sort of tolera­tion is understood; and should a public functionary be so anxious to do good that he delivers a sermon, we excuse him if he has largely compiled it; yes, and if he memorizes the whole of it, and bravely says so, we have no word of censure. But for the preacher who claims a divine call, to take a whole discourse out of another preacher's mouth, and palm it off as his own, is an act which will find no defender.
Practical Effort for Truth – Part of Satan's strategy is to use theological debates to distract people from the work they should be doing for Christ and bring entertainment and amusements into the church. But Spurgeon understood that Christian activism was not only the fruit of the gospel but could also be used by God to preserve people in the truth.
In our holy warfare, to attack is often the best defence. Work for the Lord keeps off many a temptation. It is wise to carry the war into the enemy's country. Continual activity has a purifying power. Rivers cleanse themselves as they flow. When a church is intensely occupied with soul-winning it seldom cares for setting up worldly amusements; when it is seeing conversions daily, it has little patience with unbelieving novelties.
Mr. Spurgeon's Confession of Faith – In the summer of 1891, a confession was published in the newspapers as "Mr. Spurgeon's Confession of Faith." Thirty pastors in all signed this confession which contained primarily a clear statement on their belief in the verbal inspiration of the Holy Scripture. Here was the heart of the Downgrade debate: is the Bible the Word of God? The denominational newspapers ridiculed Spurgeon for his position. But Spurgeon challenged other Christians to come forward and avow their belief in the Word of God.
We, the undersigned, banded together in Fraternal Union, observing with growing pain and sorrow the loosening hold of many upon the Truths of Revelation, are constrained to avow our firmest belief in the Verbal Inspiration of all Holy Scripture as originally given. To us, the Bible does not merely contain the Word of God, but is the Word of God. From beginning to end, we accept it, believe it, and continue to preach it. To us, the Old Testament is no less inspired than the New. The Book is an organic whole. Reverence for the New Testament accompanied by scepticism as to the Old appears to us absurd. The two must stand or fall together. We accept Christ's own verdict concerning " Moses and all the prophets " in preference to any of the supposed discoveries of so-called higher criticism.
Sweet Experiences in 1842 and 1892 – As the editor, Spurgeon always wrote the opening article in the January edition of The Sword and the Trowel. As January 1892 approached, he wasn't sure what he would write about until he received a packet of letters written by his grandfather back in January 1842. He was moved to see that these letters contained much of the same experiences and challenges of the Christian life that are faced by God's people 50 years later. Such a long-term perspective was important. During a time of discouragement, the church needed to be reminded of God's faithfulness.
I have enjoyed the reading of the old manuscript, not because of its brilliance, or depth, or poetical suggestiveness; but as a precious fragment of experience, full of grace and truth. These plain, home-spun sentences deal with realities upon which some of us live. We care nothing for the philosophies and the scepticisms of the period; we cling to realized facts. Whatever hawks may hover in the sky, our place is under the shadow of the sacred wings. The world is armed for war, the churches are to a large degree making ready for the return of chaos and mediaeval darkness, the men who are sound themselves lie side by side with those who are rotten;—but the Lord liveth, his purpose abideth, his power remaineth, and his truth must and will prevail by the might of the Holy Ghost. Therefore we sing, "Rest in the Lord, and wait patiently for him."
Breaking the Long Silence – This short meditation was preached by Spurgeon in Mentone, France on the night of New Year's Eve 1891 and into New Years Day 1892. In many ways, this serves as a reflection from Spurgeon over the journey of life. A month later, his journey on this side of eternity would come to an end.
DEAR FRIENDS,—I am not able to say much to you at present. I should have gladly invited you to prayer every morning if I had been able to meet you; but I had not sufficient strength. I cannot refrain from saying a little to you, on this the last evening of the year, by way of Retrospect, and perhaps on New Year's morning I may add a word by way of Prospect. We have come so far on the journey of life; and, standing at the boundary of another year, we look back. Let each one gaze upon his own trodden pathway. You will not need me to attempt fine words or phrases; each one, with his own eyes, will now survey his own road.
Mrs. Spurgeon's Message of Thanks – After Spurgeon's death, the March 1892 issue of The Sword and the Trowel contained tributes and expressions of thanks from those closest to Spurgeon. The opening article was a brief reflection from Susie Spurgeon, sharing her gratitude to God for the time she had with her husband, especially in the last months of his life.
I will tell you of one fact which has greatly comforted me in my deep grief; it will ever be a precious memory to me, and a theme of praise to God. It may rejoice your hearts also to have such an assurance from my pen. It is that the Lord so tenderly granted to us both three months of perfect earthly happiness here in Menton, before He took him to the "far better" of His own glory and immediate I presence! For fifteen years my beloved had longed to bring me here; but it had never before been possible. Now, we were both strengthened for the long journey; and the desire of his heart was fully given him. I can never describe the pride and joy with which he introduced me to his favourite haunts, and the eagerness with which he showed me each I lovely glimpse of mountain, sea, and landscape. He was hungry for my loving appreciation, and I satisfied him to the faul. We took long daily drives, and every place we visited was a triumphal entry for him. His enjoyment was intense, his delight exuberant. He looked in perfect health, and rejoiced in the brightest of spirits. Then, too, with what calm, deep happiness he sat, day after day, in a cosy corner of his sunny room, writing his last labour of love, The Commentary on Matthew's Gospel! Not a care burdened him, not a grief weighed upon his heart, not a desire remained unfulfilled, not a wish unsatisfied; lie was permitted to enjoy an earthly Eden before his translation to the Paradiso above. Blessed be the Lord for such sweet memories, such tender assuagement of wounds that can never quite be healed on earth!