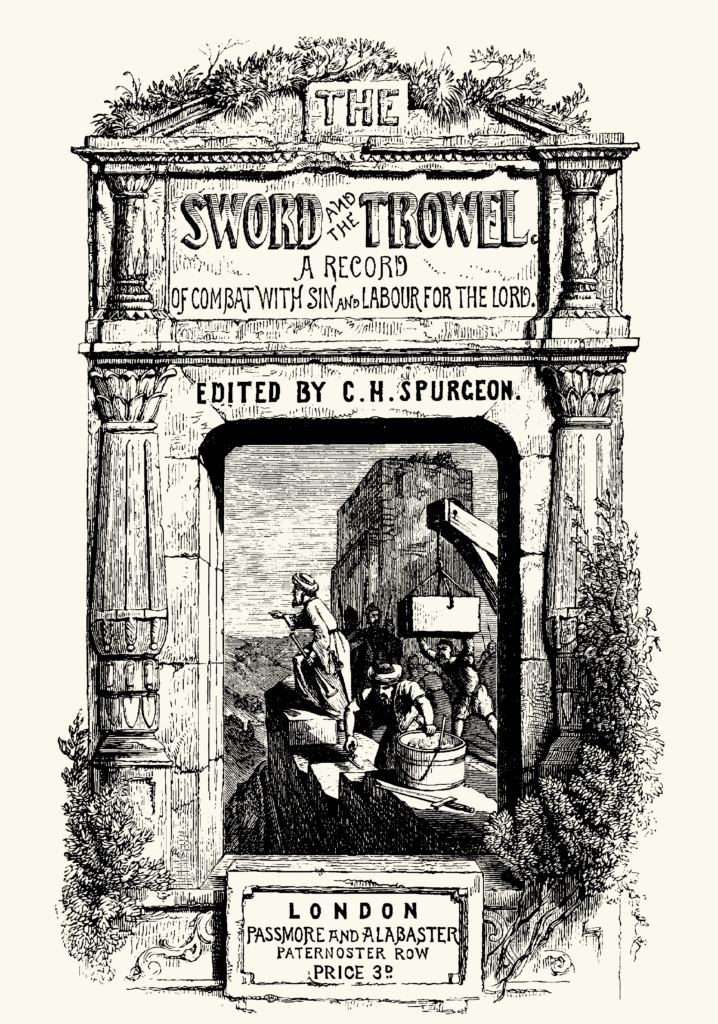 In 1884, as The Sword & the Trowel finished 20 years of publication and Spurgeon turned 50, the ministry at the Metropolitan Tabernacle was in full swing. The Pastors' College was a regular feature of the magazine, as graduates reported back on the progress of their work. Reports from Stockwell Orphanage encouraged the readers as they supported that ministry to orphans. Conversion stories from the Colporteurs and other evangelists also encouraged readers in their own evangelistic efforts and prayers for the lost. Other charitable ministries, like Mrs. Spurgeon's Book Fund, were also regularly featured. And Spurgeon's sermons, as always, provided an ongoing source of spiritual encouragement.
Yet all was not well. As always, these ministries faced their ups and downs. College graduates sometimes experienced disappointment and little fruit. Missionaries returned from the field sick and discouraged. Finances for the orphanage and college were often tight. And Spurgeon continued to struggle with poor health. Beyond these challenges, there loomed a dark cloud over the horizon. Writing in 1883, Spurgeon observed,
The enemy is gathering strength, and mustering his bold forces for fiercer attacks. What doctrine is now left unassailed? What holy thing is regarded as sacred? Truths once regarded as fundamental, are either denied, or else turned inside out till nothing of their essence remains. Holy Scripture is no longer admitted to be the infallible record of revelation, but is made to be a doormat for "thought" to wipe its shoes upon. Every sign of the times warns us of a desperate conflict for all that is precious and vital in our religion.
Here in these issues of The Sword and the Trowel, we see an active, fruitful church, but we should not imagine it to be a well-oiled machine running smoothly without a hitch. Rather, Spurgeon knew that all these enterprises depended on the prayers and support of God's people. Ultimately, they depended on God's grace for fruit. Together, they worked to build up the church and fight against evil.
Here are just a few highlights from these five years. As you read through these issues, send us a note on Twitter (@SpurgeonMBTS) if you find anything interesting!
(To jump straight to the article, click on the link, then click the "View this Resource" button.)
1880
Praise of Men – The fear of man is a snare, especially in the ministry. Beware!
A man who becomes dependent upon the opinions of others lays himself open to contempt. It is impossible to think highly of a person who fishes for compliments. To value esteem so much as to go out of our way after it is the surest possible way to lose it. When we consider how unevenly the human hand holds the balances, we may feel but small concern when we are weighed by our fellow-men. If we consider how infinitely precious is the divine regard, we shall live to gain it, and so shall rise above all slavish consideration of the opinions of our fellows.
Against Hastening to Remove From Our Post of Duty – Are you tempted to leave your ministry position? Consider Spurgeon's encouragement to persevere.
Has the minister just entered upon a fresh sphere, and does he miss the affectionate warmth of his old acquaintances? Does he find his new people strange and singular? Do they appear cold and distant? Let him persevere, and all this will wear off, and he will come to love the very people to whom he now feels an aversion, and find his best helpers among those who now seem to be utterly indifferent to him. The call of Providence has brought him where he is, and he must not venture to leave because of inconveniences; often it will be his wisdom to regard these as a part of the tokens that he is in the right way, for the appointed path is seldom easy to the feet.
1881
Young Preachers Encouraged – For those starting out in their preaching, here is some encouragement from Spurgeon. For those who are further along in your preaching, how can you raise up more preachers?
I am not old enough to have forgotten the struggles of my own early days, or the influence of a cheering word upon my young heart, and so I take a loving and lively interest in those who sincerely endeavor to do their best for their Master, even though that best be raw and uncouth. "Would God that all the Lord's servants were prophets," and that far greater numbers of laborers were sent into the harvest of the great Householder.
C. H. S. on "Taking the Bull by the Horns" – A parable for pastors who are prone to confrontation and conflict in the church.
THERE was a little trouble in the church, and the young minister was sad about it. He sought advice, and one who loved peace begged him to let the matter alone, and in a short time the evil would die of itself, for, as Solomon says, "Where no wood is the fire goeth out." The brother was of a fretful spirit, and could not take things quite so easily; it worried him that there should be a single weed in his garden, and he felt he would sooner plough it all up than let that weed remain.
1882
Two Prayer-Meetings at the Tabernacle & Two more Tabernacle Prayer-Meetings – The prayer-meetings at the Tabernacle were the engine of the ministry of the church. Here are accounts of two recent meetings at the Tabernacle, offered as a suggestion for pastors to consider as they planned their own prayer meetings.
IT has been thought that an account of Tabernacle Prayer-meetings might be useful to those who conduct these holy gatherings elsewhere. It will exhibit the great variety of which such meetings are capable, and may suggest to friends who complain of dull prayer-meetings methods for curing such a grievous ill. We do not set up our prayer-meetings as models, but merely as suggestions. We give only two meetings, but we hope to continue the account next month.
1883
How to Attract a Congregation – Spurgeon rejected the seeker-sensitive strategies of his day and proposed an alternative for his students to follow, namely the preaching of the gospel.
Among the absurd articles which have appeared lately, I noticed one which gravely asserted that in our colleges young ministers are taught everything but their main business: that main business being the art of attracting a congregation. Is not that a remarkably wise remark? Surely, a Daniel has at last come to judgment. Not taught how to attract a congregation. What a grievous omission! Surely a subscription should be commenced, and a chair founded for this neglected department of practical theology. Who shall occupy the aforesaid chair? Let us hope it will be a good arm-chair, well made, and daintily stuffed for the benefit of the professor who is to sit in it; but what will he do in return for his endowment? What text-book will he use? Into what divisions will he apportion his scientific observations? I am lost in conjecture. Assuredly, I am not a candidate for the proposed office.
1884
In my Fiftieth Year and Getting Old – When Spurgeon began his pastorate in London at the age of 19, his request to his congregation was that they would pray for him in his youthfulness. Now at the age of 50, Spurgeon reflects on the temptations and challenges of old age and once again asks his church to pray for him.
When all is said and done, the jubilation of our Jubilee does not call for any great blowing of trumpets, but rather for uplifting of hand and heart in prayer to God for further help. It may be that we are only in mid-voyage. May that voyage end in landing our freight in port, and not as some life-passages have terminated, namely, in an utter wreck of every hope! Our friends and fellow-helpers will, we trust, supplicate on our behalf that we may receive a fresh anointing from on high, and we will begin life again without fear.